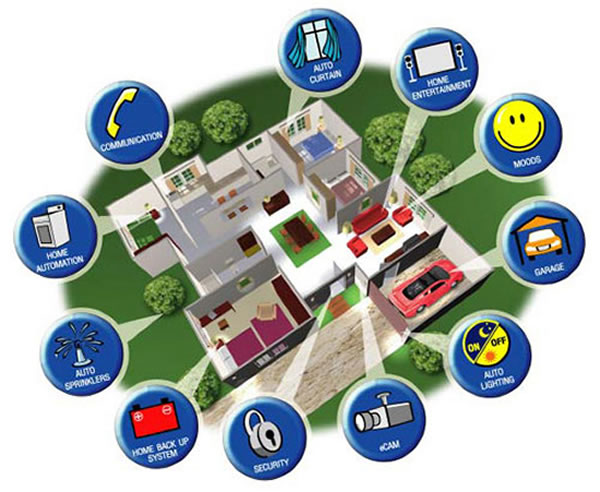 SMART WIRE- Whats is it? CLICK HERE
"New homes are getting smarter, with wiring that allows owners to control heating, lighting, telephone, security, Internet and entertainment systems from any room. Once viewed as a luxury item, smart wiring is becoming more common as the cost of components declines and builders pre-wire new homes."
Shield Security can upgrade your existing standard electrical package that has been provided by your builder. This gives you TV, and 2NETconnections in each room if necessary.
Often confused as a "Smart Home" or home automation, a SmartWired® House is simply a comprehensive wiring installation with cabling for speakers, phones, faxes, TV,  projectors and security to be installed using an integrated approach. Installation starts from as little as $1500 and can add thousands of dollars more in value to the house when it comes to selling the property.
Pre-wiring for new homes
The cabling / wiring should be installed during construction, often called "pre-wiring". These speaker, data and TV cables are then utilised later as and when the need arises. The great advantage is in the saving in the cost of further installation or relocation of services, not to mention convenience. As the home evolves, bedrooms often get converted to offices or study rooms. With smart wiring in place, phone, fax, TV and computer points can be added to the room by the home owner in a matter of minutes.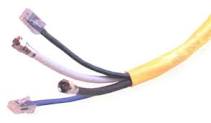 Are you building a new home or considering a remodel? If so, now is the best time to design your Audio, Video and Home Theatre system. A custom-installed home entertainment system will enhance your living space. The foundation of good design is the installation of a structured wiring system. Because wire is relatively cheap, but opening up existing walls to add additional wire is expensive, the ultimate, future-proof design strives to place non intrusive "data" or media access ports on several walls in each room of the house.
In this way, a clean media connection can be made regardless of how the decorations of the room change over time or even if the main purpose of the room changes. For example, guest rooms often become bedrooms or even home offices and the need for entertainment and data connections changes accordingly. With these connections economically installed during construction, there is no need to either attempt to run new wiring through existing walls or worse, run wires along the walls or under carpets.
The structured approach generally groups two coaxial connections and two Ethernet data/telephone connections at each access point and on a single wall plate. It also brings all of the connections back to a central cabinet or cupboard. This allows for the placement of a central hub that not only manages the interconnections between rooms but also provides a place to centrally store all of the digital content. The placement of a Media Centre PC and or storage device at the hub means that each member of the family can access TV, or any of their Music, Movies, Photos, spreadsheets/memos etc. from any room where there is a television or PC.
Aside from allowing anyone to access, this centralization, it also makes everything easier to manage. Most homeowners have their content scattered across many devices. MP3 music on a desktop computer in the bedroom, financial files on the PC in the office, CDs collecting dust in the living room or maybe stored in a CD changer. Some of this material is poorly protected from viruses and some of it is rarely used because of the inconvenience of the medium or its location. A central hub not only allows you to listen to your CDs throughout the house but it ensures that all your important files, songs etc. can be easily protected from viruses, power surges, equipment failures etc.
New construction also allows for the optimal design of the Home Theatre. The correct placement of the speakers within the room can have a tremendous effect on the overall sound quality and impact of the viewing experience. The flexibility of being able to design the Home Theatre from the ground up allows not only for correct speaker placement but the unobtrusive use of various acoustical materials to eliminate unwanted sound reflections and bright spots. This ensures that every seat in the room can enjoy the best possible experience. Finally, new construction often allows for the cost of the whole house Media system to be folded into the price of the overall project.
A smart home or building is a home or building, usually a new one, that is equipped with special structured wiring to enable occupants to remotely control or program an array of automated home electronic devices by entering a single command. For example, a homeowner on vacation can use a Touch tone phone to arm a home security system, control temperature gauges, switch appliances on or off, control lighting, program a home theater or entertainment system, and perform many other tasks.
The field of home automation is expanding rapidly as electronic technologies converge. The home network encompasses communications, entertainment, security, convenience, and information systems.
A technology known as Powerline Carrier Systems (PCS) is used to send coded signals along a home's existing electric wiring to programmable switches, or outlets. These signals convey commands that correspond to "addresses" or locations of specific devices, and that control how and when those devices operate. A PCS transmitter, for instance, can send a signal along a home's wiring, and a receiver plugged into any electric outlet in the home could receive that signal and operate the appliance to which it is attached.
One common protocol for PCS is known as X10, a signaling technique for remotely controlling any device plugged into an electrical power line. X10 signals, which involve short radio frequency (RF) bursts that represent digital information, enable communication between transmitters and receivers.
In Europe, technology to equip homes with smart devices centers on development of the European Installation Bus, or Instabus. This embedded control protocol for digital communication between smart devices consists of a two-wire bus line that is installed along with normal electrical wiring. The Instabus line links all appliances to a decentralized communication system and functions like a telephone line over which appliances can be controlled. The European Installation Bus Association is part of Konnex, an association that aims to standardize home and building networks in Europe.
Echelon Corp., the creator of the LonWorks system, is helping drive adoption of an open interoperability standard among vendors in the control networks industry. LonWorks is an open standard for network automation and control for the building, transportation, industrial and home markets. The American National Standards Institute (ANSI) has adopted the protocol underlying LonWorks control networks as an industry standard. The LonMark Interoperability Association is made up of more than 200 controls companies mission working on standard to integrate multi-vendor systems based on LonWorks networks.